London 2012: US athletes settle into Birmingham base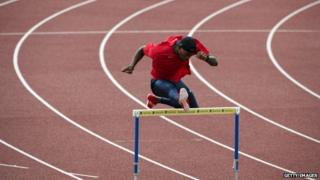 "Their faces light up when they find out that we're here and training for the Olympics," said Amanda Smock, part of the US track and field team.
The triple-jumper is one of the first wave of athletes from her country to set up base in Birmingham ahead of the London Games.
The 29-year-old athlete, preparing for her first Games, has already found her way to the odd coffee shop and begun to mix with the locals.
"They really get excited and I like to share that excitement with them," she said.
"After last year's world championships in Daegu, South Korea, coming here has a homely feeling."
The city is also being used by the Jamaican team, who have set up camp at the University of Birmingham .
The US contingent are using the facilities across town at the Alexander Stadium.
Like Smock, 400m hurdler Michael Tinsley has already been using the Perry Barr track to focus his efforts on getting a medal in London.
And he lapped up the limelight when he was paraded before hundreds of local schoolchildren at the stadium as part of a meet-and-greet session.
Tinsley said: "Getting to meet the kids was wonderful and the press conference too.
"Everywhere you go you have your US outfit on and everyone wants to talk to you and take a picture so it's really been nice."
Security company G4S may have come under fire after it emerged that it could not deliver enough guards for the Olympics, but none of the athletes appears to have any concerns.
Police and G4S staff are working at the Alexander Stadium and US pole vaulter Brad Walker said he felt "very at ease".
The 31-year-old athlete, who is set for his second Olympics, said: "I don't feel threatened in any way.
"There's been a lot of security questions but I've had no fear or unease about that situation.
"I think we're in a great host city for our training camp and am happy to be here."