Birmingham pub bombings: Forensics to examine evidence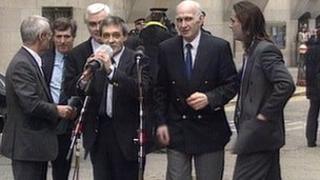 Forensic experts are being asked by the West Midlands Counter Terrorism Unit to review evidence in the Birmingham pub bombings.
Two bombs exploded in the Tavern in the Town and The Mulberry Bush pubs, killing 21 people, in November 1974.
Six men from Northern Ireland were jailed, but their convictions were quashed in 1991.
The terrorism unit said it would work with experts to see "what opportunities we might have to resolve the case".
It comes after a meeting between its head of unit, Ch Supt Kenny Bell, and victims' campaigner Julie Hambleton, whose sister Maxine was killed in the explosions.
Unsafe convictions
West Midlands Counter Terrorism Unit said he made her a commitment to consult forensic experts as to what "new developments may be applicable to exhibits, and to ensure that all documents and exhibits relating to the case are preserved and catalogued to current day standards".
It said the consultation would take "several months" because officers would have to look at a "vast number" of files.
Paddy Hill, Gerry Hunter, Johnny Walker, Hugh Callaghan, Richard McIlkenny and Billy Power, known as the Birmingham Six, were jailed for life in August 1975 for the bombings.
The Court of Appeal ruled in 1991 that their convictions were unsafe because they were based on unreliable forensic evidence and "confessions" obtained using violence.
No-one else has since been charged over the bombings.