Jaguar staff agree changes to working practices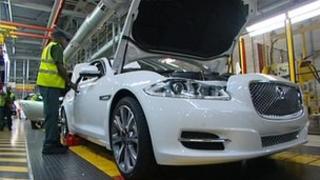 Workers at Jaguar Land Rover (JLR) have voted in favour of changes to working practices which unions said would "secure jobs for the future."
More than 70% of workers at the Castle Bromwich plant in the West Midlands backed the plans which include compulsory Saturday working.
Indian firm Tata, which owns JLR, said the changes would improve productivity.
Des Quinn from the Unite Union said: "We're pleased that workers have now got good job security for the future."
The proposals had previously been rejected by 64% of workers in May, but Mr Quinn said "extensive discussions" had taken place with JLR to get amendments made.
He said: "Given the opportunity of working on a Saturday or seeing the factory shut and jobs go, the workers have seen the balance in question was the right one to protect the future."
JLR will build the successor to its previous sports cars, called the F-type, at Castle Bromwich.
The car will go on sale in mid-2013 and Mr Quinn said he was hopeful that beyond that date more models "that weren't previously planned in the sourcing and investment agreement" would be built at the plant.