Danny DeVito at UK premiere of The Lorax in Birmingham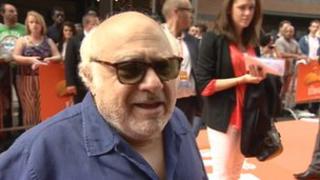 Hollywood star Danny DeVito has been in Birmingham for the UK premiere of animation film The Lorax.
DeVito, Zac Efron and singer Taylor Swift voice characters in the environmental fable based on a character created by Dr Seuss.
The film, about a boy trying to locate a mystical tree guardian, will be released in the UK on Friday.
DeVito, who attended Sunday's premiere at Cineworld in Broad Street, said the movie "feels like part of me".
'Really good'
He added: "It's a beautiful day. [I'm] very excited because we love this movie.
"I did the voice in English and German and Russian and twice in Spanish, different versions, and in Italian."
Dr Seuss is the pen name of US children's author Theodor Geisel. How the Grinch Stole Christmas, The Cat in the Hat and Horton Hears a Who! are among other Geisel works to have been filmed in recent years.
Asked if he was getting excited about the Olympics, DeVito said: "I was going to compete in one of the events, but I decided to pull out at the last minute."
About 30 athletes from the US track and field Olympics team, who have been training at the Alexander Stadium in Birmingham, were also at Broad Street on Sunday morning.
DeVito posed for pictures and signed autographs for fans.