New Jaguar Land Rover Castle Bromwich jobs 'fantastic'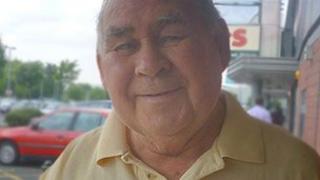 As a West Midlands Jaguar Land Rover (JLR) site announced new jobs, one resident said he thought it was "fantastic for the area".
The Castle Bromwich plant will employ 1,100 more staff to work on the new Jaguar XF Sportbrake estate car and other models.
Jim Sergeant, 76, who has lived for 40 years on the neighbouring Castle Vale estate, said: "It gives plenty of work for the locals, because there's an awful lot of locals needing work.
"All my mates worked there and a lot of them were made redundant from there and now I know some of them that can still go back.
"Their sons can get jobs over there. So it's good like that."
'Into employment'
Unemployment concerns were a common theme among residents from the estate.
Linda Cooke, 40, said she knew a few people who already worked at the site and hoped there would be a lot more residents from the estate working at the plant in the future.
Caryl Irvine, 40, from nearby Coleshill, said she thought the news was good for the area because "a lot of people have lost their jobs through different manufacturers".
She said: "I think it's going to help the local neighbourhood. We need things like this."
Although the majority of residents expressed a positive feeling towards the new jobs, some raised concerns about who was likely to be employed by the company.
Lauren Hall, 23, has lived on the estate all her life. She said jobs could benefit the area if JLR opened its doors to 17 or 18-year-olds.
"There's no money from [JLR] that benefits the estate, so the only way it would benefit would be to get people off the street and into employment," she said.
However, Miss Hall also said she had concerns about whether JLR would take on local people.
"There's no guarantee that they're going to employ people off the estate because there's going to be a wide area of people who will apply for the jobs," she said.