NFU officials meet Muller owners over milk prices row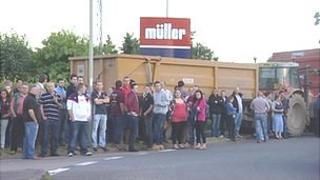 Officials from the National Farmers Union have met bosses at Muller in Shropshire to discuss the firm's plans to cut the price it pays for milk.
The Muller-owned Robert Wiseman Dairies plans to reduce the amount it pays for a litre of milk to less than 25p from 1 August.
Farmers say they will lose out on every pint which costs them 30p to produce.
About 500 people protested outside Muller and Robert Wiseman Dairies sites in Market Drayton on Sunday.
Farmers were planning to stage another protest there on Thursday night.
'Price moves'
Adam Quinney, vice-president of the NFU, said that both sides had "voiced opinions" at the meeting.
"Everyone has said their piece and I imagine there will be future talks but none are scheduled as yet," he said.
The meeting follows a draft agreement made between farmers and dairy processors at the Royal Welsh Show on Monday.
But the National Farmers Union said it would not solve the current threat of price cuts due to come into force on August 1.
It said a reduction in the price paid to suppliers, combined with rising feed costs, could force hundreds of farmers out of business.
Mr Quinney said: "We would like this to be settled by next Wednesday, prices are beginning to move and we would hope that Wiseman's would be one of those companies that moves its price."
Farming minister Jim Paice met with representatives from Asda, Iceland, Co-op and Morrisons on Wednesday.
'Competitive price'
Last week, Mr Paice chaired a meeting between the NFU and industry body Dairy UK.
Muller said: "It is important to stress that despite milk price reductions announced elsewhere in the dairy industry, Muller Dairy has made no announcement of a milk price cut from August.
"We fully understand the strength of feeling amongst dairy producers but milk prices for all dairy products are driven by market forces and processors can only pay a price that reflects the returns from the markets in which they operate.
"The Muller Group as a whole has a long track record of paying a competitive milk price to dairy farmers in all the markets in which we operate, and we intend to maintain this approach."
Its subsidiary Robert Wiseman Dairies is planning to introduce a 1.7pence per litre cut from 1 August.