Olympic knitting project unveiled in Birmingham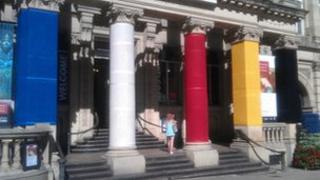 An art project to cover the pillars at the Birmingham Museum and Art Gallery with knitting in the colours of the Olympic rings has been unveiled.
Organisers said more than 400 people had spent 4,500 hours knitting panels to cover the columns.
They also bear the colours of the Jamaican and USA Olympic teams who have been staying in the city ahead of the London 2012 Games.
The knitting will stay on display until the end of September.
The K2TOG (Knit 2 Together) project is part of the London 2012 Festival and Birmingham's Kalaboration festival which is celebrating the 50th Anniversary of Jamaican Independence.
It has been organised by Stitches and Hos, a knitting group from Kings Heath and textile artist Sara Fowles.
The group took over a shop in the city centre to get people to drop in and knit their own panel for the artwork.
It said more than 1,300 balls of wool were used.