Wolverhampton Johnson brothers jailed for tax fraud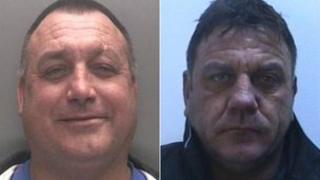 Two "notorious" brothers from Wolverhampton have been jailed for their part in a £34m tax fraud.
Carl Johnson, 49, of Bushbury Road, and Anthony Johnson, 51, of Sandy Lane, Tettenhall, were found guilty of money laundering on 9 July.
Their trial was the last in a series involving 13 men after an investigation by police and HM Revenue and Customs.
A judge at Birmingham Crown Court sentenced the brothers each to two years and nine months in prison.
West Midlands Police said they had a "long-standing reputation for violence" in Wolverhampton.
Supt Mark Payne said: "For a number of years the Johnson brothers seem to have been untouchable.
"However we would like to reassure everyone in Wolverhampton that no-one is above the law."
Police said the brothers had earned about £2.4m working as "protection" for Thomas Scragg.
Scragg, 56, of Solihull, was jailed for 17 years at Birmingham Crown Court on 9 July for defrauding the public purse of £34m.
'Flaunting their wealth'
Police said all three men had spent hundreds of thousands of pounds on luxury hotels in London and ran up big bills at restaurants.
It said it received regular calls from people that had seen the brothers around Wolverhampton, asking questions about where they had got their money from.
Det Ch Insp Shaun Edwards said the brothers had been caught after "flaunting their wealth for the local community to see".
"There is nothing more frustrating than seeing criminals driving around in flash cars and living in huge houses," he said.
"Hard working people in Wolverhampton expect police and agencies to take action on their behalf."
He said it had been "an incredibly long and complicated investigation," which was dated back to 2007.
Police said the brothers' assets, including properties, thought to be worth more than £2m were now the subject of a confiscation order.