Birmingham dentist Joyce Trail convicted of £1.4m fraud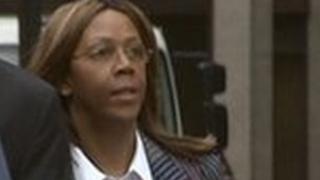 A Birmingham dentist accused of conning the NHS out of £1.4m by making false claims for treating patients has been convicted of fraud.
A jury at the city's crown court heard Dr Joyce Elaine Trail, 50, submitted claims for 100 patients who were dead and triple-claimed for others.
The court heard she was part of a fraud involving 7,000 claims backed up by false paperwork.
Sentencing is due in September. Trail's sister, Fiona, was cleared of fraud.
Both sisters were also cleared of a charge of perverting the course of justice.
Joyce Trail's daughter Nyri Natilia Sterling, 33, of Ashwood Close, Oldbury, West Midlands, was found guilty of conspiring to defraud the NHS and told she could face a jail term.
'Lavish lifestyle'
Prosecutor Miranda Moore QC told the jury Sterling worked in the administration side of the practice and assisted her mother in committing the fraud.
Joyce Trail, of Park Drive, Little Aston, Sutton Coldfield, was alleged to have used the money on a "lavish lifestyle" and was told she faces a "substantial" jail term.
Judge Peter Carr said: "You abused your position as a professional and you abused your position as a dentist.
"You have effectively stolen a large amount of money that was not available to an already overstretched health service."
Ms Moore had told the trial: "Dr Trail treated people who lived in nursing homes and residential care a great deal of the time.
"She double and triple-claimed for people that she had actually treated and then she used patient details, which had been quite unwittingly supplied to her by nursing homes, to claim for people that she had never even met."
Jimmy Choo shoes
Speaking after the verdict, Victoria Jones, from the West Midlands Crown Prosecution Service said Trail's victims had been not only vulnerable patients, but also ordinary taxpayers.
She said: "The work that Dr Trail claimed to have done was for those most vulnerable people in society, namely the elderly and those with dementia."
Ms Moore told the court Trail had spent money on "globe-trotting" and Jimmy Choo shoes.
"Her American Express bill was vast compared to what she was legitimately making from the business, but of course when it's other people's money it's very easy to spend it," she added.
Ms Jones described the prosecution as one of the most complex taken on by West Midlands CPS.
She said more than 85,000 paper and electronic documents, including patient records and laboratory results had to be checked to put the case together.
Sentencing is to take place on 14 September.