Walsall heritage concerns follow three building fires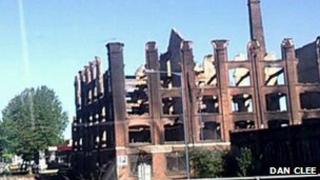 A spate of arson attacks on historical buildings in Walsall has prompted concerns the town is losing its heritage.
Three buildings including the Grade II-listed Boak leatherworks, have been targeted in the last year, said the fire service.
Station commander Adrian Baldock said fires in disused properties were becoming the "biggest problem".
A Walsall Museums spokesman said people feel "the heritage is going".
'Sense of loss'
Senior curator Mike Glasson said: "These are buildings [people] remember from their childhood that their families have associations with, going back generations.
"There is a tremendous sense of loss and people are very upset and quite angry about it."
Over the past 12 months three historical buildings connected to Walsall's leather industry have been destroyed by fire.
While William House, targeted on 30 May, remains standing following the attack, the former Jabez Cliff factory has been reduced to rubble after being hit on 6 April.
A West Midlands Fire Service spokesman confirmed the fires were logged as "suspected arson" and "suspicious" respectively. He also said both attacks had warranted police investigation.
The most recent fire happened at the old Boak building on Station Street on 23 July. It was put out in the early hours of the following day after the roof collapsed.
A West Midlands Arson Task Force - a partnership between the fire service and police - was set up in 2003 to help reduce such fires.
Sgt Phil Butley, from the task force, said: "The reality is we do understand how hard it is and we certainly want to reduce these incidents.
"It's not just a matter of trying to catch people. We do not want these incidents to happen in the first place."