Birmingham toasts Jamaican independence anniversary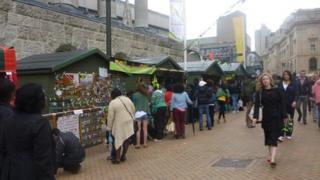 Thousands of people have attended an event in Birmingham held to celebrate the 50th anniversary of Jamaica's independence from British rule.
Traditional Jamaican food, Caribbean punches and Jamaican music have been among attractions at Victoria Square.
The open-air "Jamaica in the Square" festival has featured 40 stalls.
Independence day celebrations were taking place a day after Usain Bolt retained the Olympic gold medal in the men's 100m.
His compatriot Yohan Blake took the silver.
'Sense of pride'
The festival was not only hosted to celebrate the anniversary of independence, but also to salute the Jamaican athletes' participation in the Olympics after they trained at the University of Birmingham, the city council said.
Events, which have included dancing, cookery demonstrations and craft market stalls, began last Thursday.
The event has also given people the chance to hear about the historical background to the nation and the opportunity to start to trace their family history in the Caribbean.
One of the event organisers, consultant Elaine Clough, 50, also worked on a food stall showcasing "all of the traditional puddings you would associate with Jamaican cuisine".
She described the initiative as a "huge thing for Birmingham".
Ms Clough, who lives in the city, said: "You celebrate with a great sense of pride [and] cultural heritage. [It's an] opportunity to share what we're about as a community with the wider community.
'Showcasing city'
"There's a real serious element to it, which is about bringing commerce to Birmingham as the second city and also building entrepreneurism within the community."
Ann Edwards, who is in her 40s, developed a range of jewellery for the Diva n Dolls stall with members of her family after hearing about the event through media coverage.
She said: "We hand-make all our jewellery with Caribbean influence and style and they're all hand made locally.
"We're happy that [independence is] being celebrated in Birmingham and Birmingham is having the opportunity to showcase itself to the world what it can stage it terms of a successful event."