Usain Bolt's running spikes from Olympic heats bought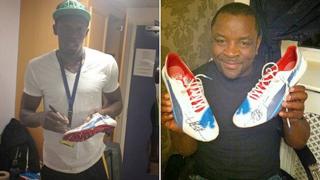 A Birmingham man has obtained a piece of Olympic history by purchasing running spikes worn by Usain Bolt in the 100m heats.
Walton Wilkins, from Bordesley Green, paid an undisclosed fee for the footwear superstar athlete Bolt used on Saturday ahead of Sunday's final.
Sports memorabilia collector Mr Wilkins said he was "very chuffed" to get them.
About 20 million people watched the Jamaican storm home in the final in an Olympic record time of 9.63 seconds.
Mr Wilkins said: "A friend knows someone who knew someone else connected to Bolt's entourage so when I found that out, I asked if it was possible to get any sport memorabilia from him.
"I never expected to get the spikes.
"I won't say how much they cost me but it was worth it, I'm really pleased I've got them. He's one of the world's greatest sportsmen."
'Keeping for now'
The 48-year-old, who has memorabilia from boxers Joe Frazier, Mike Tyson and Muhammed Ali, said he has contacted auctioneer's Bonham's to get an estimate on the spikes which are signed by Bolt.
He said is also trying to buy the spikes he wore in the final.
"They (Bonhams) said they would price them at between £15,000 to £20,000," he added.
"I've had plenty of my family round wanting to see them and take photos of them.
"They have plenty of admirers but I'm keeping them for now anyway."
A spokesman for Bonhams said: "We can confirm we have been approached by a gentleman claiming to be in possession of a pair of running spikes worn by Usain Bolt in the London 2012 100m heats, and signed by him afterwards.
"We are currently still at the stage of trying to establish their provenance, but if proven to be genuine it is likely they could fetch somewhere in the region of £15,000 to £20,000."