Quarry death parents want site permanently closed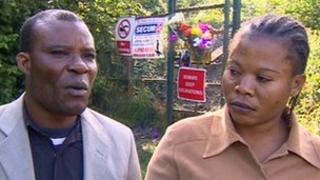 The parents of a teenager who died at a water-filled quarry in the West Midlands have called for it to be closed off permanently.
Augusto Massampo Zacarias, 15, drowned at the site in Lower Gornal, Dudley, on 25 July, while swimming with friends.
His mother Paulina Zacarias said: "We want to see this place totally closed down and for the owners to take full responsibility for our son's death."
Quarry owners, Wienerberger, said it was reviewing security at the site.
Barbed wire
The company said the quarry is surrounded by a 6ft (2m) high chain link fence topped with barbed wire, which is checked two or three times a week.
It said there were clear warning signs specifically to warn of danger, deep water and against swimming in the quarry.
A spokesman for the firm said: "We are working closely with the police regarding both the ongoing investigation and future arrangements."
Augusto was visiting family from Portugal with his parents, Paulina and Pedro, as well as his young brother.
He had been in the country less than three weeks and had just celebrated his 15th birthday.
Mrs Zacarias said: "When we found out that Augusto had died we were traumatised and totally lost control of all our emotions."
"This place should be shut down to protect children and stop it happening again."