Stourbridge glass manufacturer fights off hostile takeover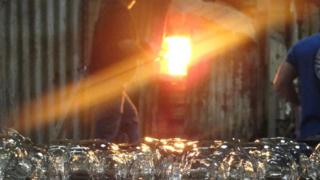 One of the last manufacturers in Stourbridge's glass quarter has fought off a takeover which the company believed threatened its survival.
Plowden and Thompson operates from a cone-shaped building that has been used for glass manufacture since 1788.
Company spokesman Barbara Beadman believed the Chinese bidder's main interest was acquiring the building's "history and kudos".
The Stourbridge firm has now been taken over by a British company it supplies.
Mrs Beadman said: "Some new equipment will be coming in and we will probably be having some new people with new training, so it will expand the skill base and the product base."
The firm currently has a workforce of 18.
Kari Moodie, from Broadfield House Glass Museum in Kingswinford, said the glass industry in the area had reduced "quite dramatically" in the past 50 years.
"Plowden and Thompson, along with Brierley Hill Crystal on the other side of the borough, are really the only two factories left in the area," she said.
Plowden and Thompson makes specialist glass products, including fine tubing the size of a hair, small tubes for chemistry labs and blood treatment, tail lights for jet planes and runway lights.
A separate division manufactures cut crystal and recently made replicas of the glasses used on the Titanic for a TV series.
Glass making in the Stourbridge area can be traced back 400 years according to Miss Moodie, who is the glass interpretation officer at the museum, which is involved in the International Festival Of Glass.
She said the industry was "a huge employer in this area".
"Everybody who is local has stories to tell about relatives and ancestors who worked in the industry," Miss Moodie said.
"In a way a lot of people have taken that for granted and haven't realised how special it was until most of it was gone, and now there's recognition of what's been lost."