Solihull Hospital cancer patient calls for independent inquiry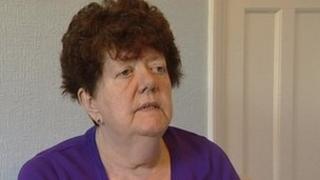 A breast cancer patient who received unauthorised surgery has called for an independent inquiry into the role a West Midlands hospital played.
In December, Solihull Hospital told more than 500 women that they might not have had full mastectomies.
The trust which runs the hospital admitted a surgeon had been suspended over the non-approved procedure.
Ann Butler is taking legal action against Heart of England NHS Foundation Trust, which runs the hospital.
The trust admitted the "unusual procedure" used by the surgeon had been first identified in 2007.
External review
Ms Butler, 70 and from Shirley, said therefore that the hospital should have acted sooner.
The technique used by the suspended surgeon involved leaving some of the breast tissue behind to give a better cosmetic result.
Following a subsequent external review, the trust said the procedure was stopped and it began a process to identify patients who had received the surgery since 1998.
It said that by April this year, all patients affected had been contacted and invited to see an alternative surgeon.
Ms Butler said she learned of the situation after she received an appointment in January 2011, 10 years after first undergoing surgery at Solihull Hospital.
"After waking up from my mastectomy, I expected the area where my breast had been removed to be flat, but to my surprise it wasn't," she said.
"I had no idea that the operation he had done was not normal procedure.
"It's destroyed my trust. My confidence has been shattered.
"I feel for myself and all the other women who may feel scared to have further treatment, as I felt before seeking a second opinion."
'Absolutely appalled'
Despite being offered ongoing mammogram scans or surgery at Solihull, Ms Butler chose to visit a private clinic.
She said she was advised to have a full mastectomy immediately, removing all tissue in the breast.
After undergoing surgery in May, Miss Butler said she was "heartbroken" to be told pre-cancerous cells were present, meaning had she not had the tissue removed, she would have been at risk of developing breast cancer for a second time.
She said: "I am absolutely appalled in the way this whole situation has been handled by the Trust.
"It terrifies me that they did not inform us straight away. It seems to me that they felt it was acceptable for us not to be frightened, but it's ok for us to be at risk of cancer."