Woman, 90, dies after burglary at Wolverhampton home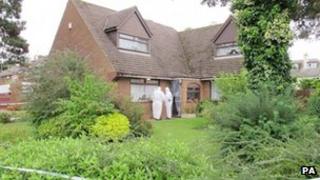 A 90-year-old woman has collapsed and died after thieves pushed their way into her house in Wolverhampton.
Hester Mottershead was taken ill minutes after the burglary at her home in Saxonfields, Tettenhall, on Friday.
Her death is being treated as murder by police, who said it was believed she suffered a stroke.
Three men had entered her home after posing as water board officials and spent 30 minutes searching the house, West Midlands Police said.
Supt Mark Payne said it was thought a man knocked on the door and after Ms Mottershead opened it two other men pushed past her.
He said Ms Mottershead rang police after the thieves had left her home.
"Unfortunately when we arrived she was in some difficulty.
"The officers tried to help her and called an ambulance. Unfortunately, she was taken to hospital and she passed away of what is believed to be a stroke."
'Terrible end'
He appealed for the burglars to hand themselves into police.
"This is a tragic series of events and a terrible way for a 90-year-old lady to end her life," said Supt Payne.
"She was extremely distressed. She was a 90-year-old lady and there are very few circumstances that could be any more distressing than having three people in your house searching while you are in there."
Police said the offenders were described as three men in their late teens to early 20s, all wearing blue clothing, which were possibly work overalls.
Forensic teams have been carrying out examinations of the scene and house-to-house inquiries are under way.
It is not yet known whether anything was taken from the house and police are advising residents to be on their guard against bogus callers.
They are also appealing for anyone who may have seen three people acting suspiciously in the area to contact them.
Neighbours said Ms Mottershead was a retired headmistress who had taught at schools in Bilston, in the West Midlands, and Wolverhampton.
A post-mortem examination will take place to determine the cause of death.