London 2012 Festival: Helicopters fly in Birmingham opera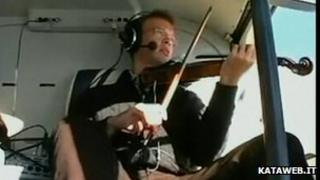 An opera in which string musicians play from four military helicoptershas has opened in Birmingham.
Mittwoch aus Licht by Karlheinz Stockhausen is being staged at a former chemical plant as part of the London 2012 Festival until 25 August.
The opera, produced by Birmingham Opera Company, will be performed by 150 people at Argyle Works, Great Barr Street.
The piece, which means Wednesday from Light, is in six parts.
It features two choirs, solo instrumentalists, live electronic and acoustic music and a dancing camel.
Jean Nicholson, from the company, said: "It's one of the biggest events in the 2012 Festival and it's a real feather in the cap for the city that people think that we're good enough to do it."
It is estimated to be costing about £1m, with Arts Council England putting £920,000 into the project.
Last week, West Midlands Police issued a warning on Twitter ahead of the weekend rehearsals about helicopter noise.
It said: "More helicopters over Brum city centre tomorrow. Nothing to worry about - rehearsals for a unique opera."