Birmingham police admit gunfire sensors 'struggled to work'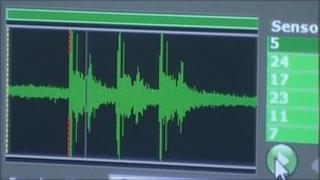 Police have admitted that gunfire sensors put up in parts of Birmingham have not been as accurate as hoped.
The Shotspotter Gunshot Location System was introduced where there was a high number of firearm incidents in 2010.
Police said of the 1,618 alerts from the system since November, only two were confirmed gunfire incidents. It also missed four confirmed shootings.
Despite the low success rate, 23 out of about 30 local residents backed the use of the system at a public meeting.
Ch Supt Clive Burgess told the meeting at South and City College, Handsworth, that he had "an open mind" on the future use of the system.
The sensors were placed high up on buildings covered by the West and Central local policing unit, which includes Handsworth, Aston and Newtown.
At the time they were put up, West Midlands Police said the devices had about an 85% accuracy rate and could detect a gunshot within 25m (82ft).
Fatal shooting
Ch Supt Burgess said the system learnt to detect the sound of gunfire after installation.
Part of the reason Shotspotter had "struggled to work", unlike in the US, was due to the small number of gunshots being fired, he added.
From August 2010 to July 2011, police said there had been just one fatal shooting in the force area, and none in the last year.
The force said the cost of operating the system totalled £24,000 this year, rising to £40,000 next year and expected to increase with inflation.
Ch Supt Burgess denied claims by some residents that police had not kept communities informed about the use of the system.
"We have had a series of meetings and we are now going through an evaluation process and the important thing for me is to see if the community wants this," he said.
The Home Office is also evaluating the system.