Dudley Zoo reopens vintage chairlift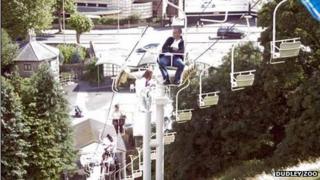 A vintage chairlift which stopped operating at a West Midlands zoo 10 years ago has reopened following a £117,000 grant.
The chairlift at Dudley Zoo began operating in 1958, charging passengers sixpence each, but closed in 2002.
The 41 chairs, roller system and engine were revamped during the project which saw 16 layers of old paint removed.
Zoo chief executive Peter Suddock said staff had often been asked: "When's the chairlift going to be running?"
Visitors will not pay an additional fee to use the attraction.
Dudley Zoo said specialist tests were carried out to ensure the lift was painted its original cream colour during the 12-week project.
The lift was officially opened on 11 May 1958 by comedian Richard Hearne, who played the children's TV character Mr Pastry.
Within six months it had carried more than 154,000 passengers, about one third of persons visiting the zoo during that period, a spokesperson said.
In all, the attraction was awarded £1.2m from the Heritage Lottery Fund, which will also see the restoration of the site's 12 listed modernist structures, which are part of a collection of Tecton buildings designed by architect Berthold Lubetkin.
The chairlift, which offers a two-minute ride with panoramic views, was the first passenger-carrying aerial ropeway installed in England, the zoo said.
Mr Suddock said the zoo had kept all the original drawings of the chairlift, which had suffered "exposure to the elements".
 "It's a fantastic piece of machinery and a tribute to 1950s engineering techniques," he added.