Axe-wielding robbers target Black Country shops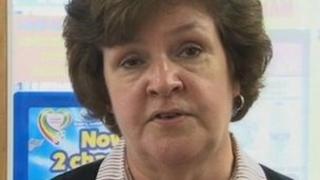 Two shops in the Black Country have been targeted by axe-wielding robbers.
Staff and a delivery driver at the Spar store in Lawnswood Road, Wordsley, were tied up by two offenders who stole a "large amount of cash", police said.
The incident happened shortly before 06:50 BST and followed the theft of a cashbox on Thursday morning at a post office in Lake Street, Lower Gornal.
Two men threatened a security guard. On both occasions the assailants fled the scene on a motorbike.
The manager of the post office that was attacked at 09:00 BST, Sandra Suckling, said: "As the cash man went out of the shop a person came in with a crash helmet on... wielding what we later found out to be an axe.
'Faces covered'
"We couldn't tell at the time - it all happened that sudden.
"We're a bit resilient in this place. Nobody was hurt. It's just the shock of it."
Det Sgt Michael Greenland, from West Midlands Police, said: "During both offences the offenders had their faces covered.
"We are examining CCTV in the local area of each offence as well as carrying out local enquiries.
"We are aware of a current spate of robberies across the Black Country area.
"We are at an early stage of our investigations and trying to establish if there are any links between the offences."