Birmingham library staff 'will be ready to move 2m books'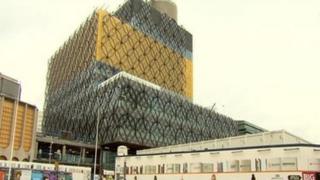 Moving one of the world's most expensive books to its new home is no mean feat but staff at Birmingham Central Library say they are prepared.
But while Audubon's Birds of America, estimated to be worth £6m, is the library's most valuable, it is just one book in a vast collection that must be relocated.
With one year to go until the new £188m Library of Birmingham opens, plans to move more than 3.5m items have been under way since 2009.
About 1,100 crates of books, archives and photographic stills will be taken to the new library, next to the REP theatre, each day for three months, ahead of its official opening to the public on 3 September 2013.
A final date for the closing of the current Central Library has not yet been made by the city council.
"We are looking at mitigating action by preserving services for children and young people to the last possible moment, and by extending the hours of adjacent community libraries," a spokesman said.
'Lot to do'
A total of around 66,000 crates of items will be relocated to the new city centre site in the coming months.
Development manager, David Bishop, admitted there was "a lot to do" but said he was confident they would be ready to start moving things from May next year.
"Given the size of the collections we've got, we've had to start two to three years ago," he said.
"We've got about two-and-a-half million photographic images, we've got archive material going back to the 12th Century and also a huge number of books - over two million - so as you can imagine, there's a lot of work involved in actually getting them ready for the move and transported safely."
As for Audubon's book, a copy sold at auction in December 2010 for just over £7.3m.
Only 119 complete copies are known to exist, with 108 owned by museums and libraries.
Mr Bishop said it contains 400 colourful illustrations of birds. It stands at 99.06cm x 66.04cm, unopened.
"It was produced in the 1820s and 1830s - it's one of the most valuable items we have in the central library.
"It shows 400 prints of the various bird species of America probably worth around £6 or £7m so, very valuable indeed."
The Central Library was built in 1973 and was once described by Prince Charles as looking like "a place where books are incinerated, not kept".
The facilities at the new 10-storey Library of Birmingham include, an outdoor amphitheatre, exhibition gallery space and new online areas increasing public access to the collections for the first time.
It will also be home to a BFI Mediatheque, providing free access to the National Film Archive.
The REP theatre will move back into Centenary Square during next summer after a two-and-a-half year refurbishment and extension of its building.
It is set to reopen to the public at the same time as the library.