The Archers: Radio 4 drama series scripts sold at auction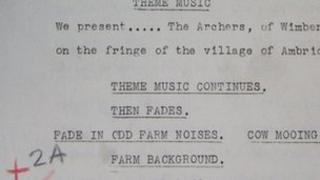 A set of 10 scripts from BBC Radio 4's The Archers have been sold for a total of £2,800 at auction in Wolverhampton.
The Archers radio drama series, recorded in Birmingham, was first broadcast in 1951.
The scripts were copies addressed for the attention of Harry Oakes, who played the character of Dan Archer from the middle-class farming family.
Dating back to the first programmes and pilot episodes, the scripts were sold by Cuttlestones Auctioneers.
Sold in two lots of five scripts at the auctioneers' Wolverhampton salesrooms, each lot was expected to sell for between £2,000 to £4,000.
A photo card signed by cast members including Harry Oakes, Gwen Berryman, Pamela Mant, Norman Painting, Ysanne Churchman, Pauline Seville, Eddie Robinson, Bob Arnold, Leslie Bowmar, Denis Folwell, Thelma Rogers and Arnold Peters was sold for £75.
Cuttlestones' auctioneer Dave Eglington described the scripts as a piece of "broadcasting history".
The collection belonged to a Birmingham collector who stumbled across them in a bulk of papers he bought 15 years ago.