Tennis player Andrew Fitzpatrick assaulted on Asia Futures tour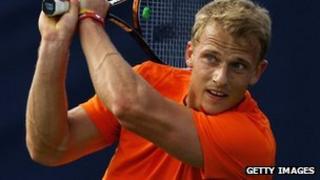 A tennis player from the West Midlands has described being a victim of a theft and then an attack on a tour of Asia that took him months to save up for.
Andrew Fitzpatrick, from Solihull, said in his first week of the Futures tour in Vietnam, he had £1,000 - all his travel money - stolen.
On Monday, the 23-year-old tweeted that he had also been assaulted in the shower after playing a match.
He said he was now struggling to continue the tour on prize money alone.
Fitzpatrick, who is currently competing in the first of five tournaments across the continent, said he had his wallet stolen from beside a tennis court soon after arriving in Binh Duong, Vietnam, three weeks ago.
The tennis player, who is travelling on his own, said he must have either been practising or playing in a match when it was taken.
Weapon fear
On Monday, he told his Twitter followers how he had been followed into a shower after playing a match by a local man who then "grabbed" him and assaulted him.
"He was in the way of me getting out of the cubicle so I had to hit him to get past," he said.
"I thought he might be armed with some sort of weapon.
"I... ran for the exit of the changing room so he couldn't escape and I could call for back-up."
Fitzpatrick said he contacted police about the incident but said the man was just given a warning by officers.
The British number 13, who has got through to the quarter-finals of the tournament, said he "could not wait" to leave the country.
Fitzpatrick said after Vietnam he was due to go on to play in Hong Kong and Japan and was due to be joined by his girlfriend.
He said: "I refuse to pack it in and come home because in effect that would cost more because I'd have to change flights.
"I'm willing to tough it out off just prize money at the moment.
"The more I win, the more money I have to live off."