Rebuild begins at Wolverhampton school damaged by fire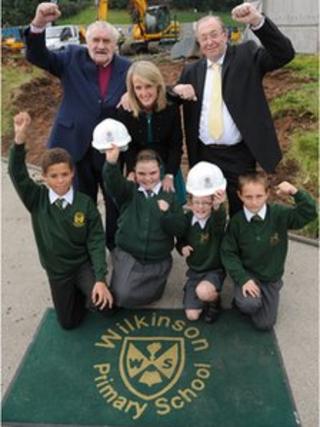 Work to rebuild a Wolverhampton primary school has begun, two years after it was partly destroyed by arsonists.
More than 80% of Wilkinson Primary School in Bilston was damaged by fire in the attack in October 2010.
Wolverhampton City Council said £8.2m was being spent to build new classrooms and play areas which had been designed by architects working with pupils.
Headteacher Tina Gibbons said: "The last two years have been difficult and it is a relief that work is starting."
"It is also poignant that work is starting on the second anniversary of the fire but this gives us a wonderful feeling of hope and optimism for the future," she added.
After the fire, the 300 pupils from the school were taught at the nearby St Martin's church, until portable classrooms were put up on the school site.
Rooms that survived the fire were still unfit to use because of water damage sustained when firefighters tackled the flames.
The old school building was demolished in 2011.
Wolverhampton City Council said it expected building work to be completed by December 2013.