James Duut jailed for trying to kill his aunt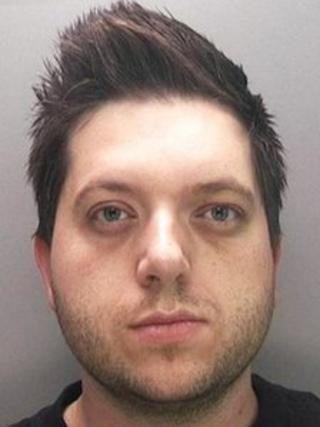 A 32-year-old man who tried to murder his aunt in a hotel room and make it look like a suicide attempt has been jailed indefinitely.
James Duut had pleaded guilty at Birmingham Crown Court to the attempted murder of Patricia McDonnell, 62.
Duut, of Mere Road, Erdington, strangled Miss McDonnell until she was unconscious at the Ramada hotel in Sutton Coldfield in December 2011.
He scattered pills around her body when he believed he had killed her.
Birmingham Crown Court heard that he had stolen £10,000 from Miss McDonnell's bank account, including £3,400 he withdrew just hours after leaving her for dead.
Police said Duut, who was £60,000 in debt, then went on a spending spree at Bicester Village in Oxfordshire.
It included paying £144 for a round of cocktails.
'Extreme violence'
The court heard that Duut had tried to knock out Miss McDonnell suffered extensive bruising and a broken tooth in the attack and was thought to have been unconscious for around three hours.
She had been staying at the Ramada following a fire at her home and woke up on the floor of her hotel room at 14:20 BST on December 11, 2011.
She raised the alarm with hospital staff before being taken to the Good Hope Hospital, where tests found traces of codeine and diazepam in her blood.
Duut was arrested the following day.
Passing an indeterminate sentence of imprisonment for public protection, Judge Paul Farrer QC said that Duut must serve at least eight years in prison.
He said: "I have no doubt that you believed you had killed her. You planned to make it look like suicide.
"You are undoubtedly a highly manipulative individual prepared to resort to extreme violence."
"Patricia McDonnell is your aunt - she helped to bring you up, she was close to you and she was prepared to confide in you."