Thousands of cannabis plants found in Birmingham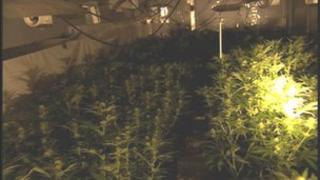 More than 2,000 cannabis plants have been seized in a raid at a former pub in Birmingham.
The raid took place at the disused premises of the Racecourse pub on Bromford Drive, Bromford, on Friday evening, police said.
Two men and a 14-year-old boy were arrested on suspicion of cannabis cultivation and immigration matters.
West Midlands Police said its new Drugs Investigation Team uncovered about 10 large-scale cannabis farms each week.
In the latest raid, which was sparked by a call from a member of the public, officers also recovered a large quantity of hydrophonic equipment which aids indoor plant growth, a spokesman added.