Smethwick's Waterloo Hotel on Victorian Society's endangered list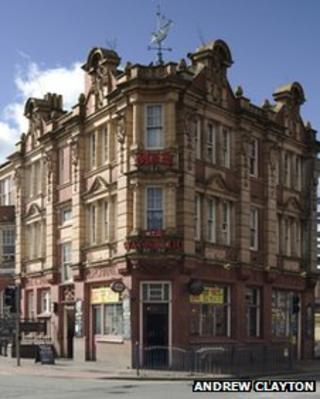 A Grade II listed hotel in the West Midlands has been included on the Victorian Society's list of the 10 most endangered buildings.
The Waterloo Hotel in Smethwick, built in 1907, needs protection from "weather, thieves and vandals", the organisation said.
The hotel is currently closed and will be auctioned at the end of the month.
Sandwell Council said it was talking with English Heritage to ensure the building's future protection.
The building, which was previously used as a pub, was included on the list of the most endangered buildings in England and Wales after historians suggested Victorian or Edwardian buildings at risk in their area.
It is the second time the building, which was recognised as Grade II by English Heritage in 1999, has appeared in the top ten.
The Waterloo was built by Wood and Kendrick as a showcase for Mitchells & Butlers and retains many of its original features.
The Victorian Society said the hotel's Edwardian grill, which they believe to be in working order, is "considered unique".
There are also decorated tiles on the walls and ceilings inside the building.
Chris Costelloe, director of the Victorian Society, said: "The Waterloo needs protection from weather, thieves and vandals.
"Looking into the future, it also needs a plan that retains its use as one of the most stunning pubs in the West Midlands."
Alison Bishop, conservation officer at Sandwell Council, said the survey work is being carried out to estimate what needs to be done to preserve and stop further water damage from lead thefts.