West Midlands PCC: Candidates back Birmingham bombings review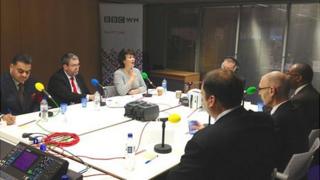 All the candidates standing to be the first West Midlands police and crime commissioner have said they would support a fresh investigation into the Birmingham pub bombings.
In November 1974, two bombs exploded in the Tavern in the Town and The Mulberry Bush pubs, killing 21 people.
The candidates gave their backing to an inquiry during a radio debate on BBC WM.
Voting in the elections takes place on 15 November.
After the bombings, six men from Northern Ireland were jailed, but their convictions were quashed in 1991.
'Denied justice'
In August, it was announced forensic experts were being asked by the West Midlands Counter Terrorism Unit to review evidence into the bombings.
In the debate on Thursday, a caller called "Jim" asked the candidates for their opinions on whether a fresh inquiry should be held.
Former West Midlands Police detective Mike Rumble, who is standing as an Independent candidate in the election, said he supported the call "100%".
He said: "It is a disgrace - we should be ashamed here in the West Midlands that this matter has not been reopened and investigated."
Conservative candidate Matt Bennett, who served as a Birmingham city councillor from 2008 until May, said: "It is bad enough to lose a loved one in such tragic circumstances, but to be denied justice in that way is appalling."
He said if elected, he would "make sure I move this issue forward".
Independent candidate Bishop Derek Webley, who stepped down in October as the chair of the West Midlands Police Authority, said public confidence when it came to justice over the bombings was "a cause for concern".
He added: "It is vitally important for this public confidence and the families concerned that there is a fresh eye that looks into this."
'Passion for justice'
Bill Etheridge, a campaigner for individual liberty who is standing for the UK Independence Party, said his parents had been in the pubs a week or two before the bombings and would also back the calls.
He said: "I understand the need and the passion for justice on this."
Liberal Democrat candidate and Birmingham city councillor Ayoub Khan said: "Lives have been lost - that is murder and people need to be brought to justice.
"If elected, I would demand a fresh inquiry and with modern technology I'm sure we can get results."
Labour candidate Bob Jones, a Wolverhampton city councillor and former West Midlands Police Authority chairman, said: "The lack of justice for the families is a continued stain on West Midlands Police."
He said that if elected he would press the force's chief constable and forensics experts to see what evidence still existed.
Former West Midlands detective superintendent Cath Hannon, who is standing as an Independent candidate, said it was an issue of "real concern".
She said: "It is time for us to understand what really happened that evening and the time is right for reform and change and I will deliver that."
Paddy Hill, Gerry Hunter, Johnny Walker, Hugh Callaghan, Richard McIlkenny and Billy Power, known as the Birmingham Six, were jailed for life in August 1975 for the bombings.
The Court of Appeal ruled in 1991 that their convictions were unsafe because they were based on unreliable forensic evidence and "confessions" obtained using violence.
No-one else has since been charged over the bombings.
Other topics discussed in the debate included police force finance, the £100,000 salary the West Midlands commissioner would receive, whether the post would create extra bureaucracy and how to tackle anti-social behaviour.