Thieves steal underground diesel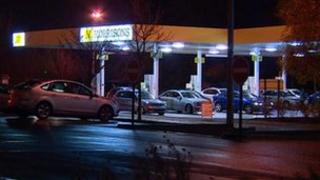 Gallons of diesel have been stolen by thieves by removing manhole covers and draining underground tanks.
Fuel thieves have struck twice at petrol stations in the West Midlands within the last two weeks, taking 5,500 gallons of diesel.
The latest theft was at the Morrisons garage in Bilston, on Sunday evening. The thieves also struck at Greenfields Service Station in Halesowen.
Police said those responsible must have detailed knowledge of the industry.
Insp Peter Haywood of West Midlands Police said: "We don't know how they would siphon it off, but they would need to have detailed knowledge to do that."
He said he suspected a gang was involved, as it would need several people to remove the manhole covers and remove the diesel, and suspected the two incidents were linked.
Brian Madderson, chairman of the Petrol Retail Association, said such thefts were an increasing phenomenon as the price of diesel remained close to its all time high.
The theft at the Greenfields garage was on October 30.