Nick Skelton appointed OBE at Buckingham Palace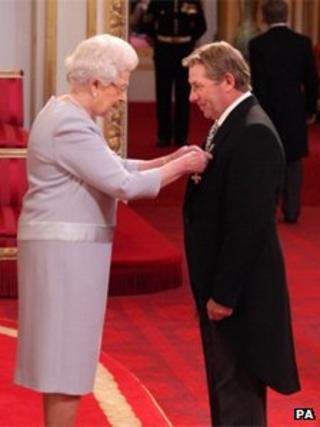 Olympic gold medallist Nick Skelton has been appointed an OBE at Buckingham Palace.
The Warwickshire showjumper received his award from the Queen for services to equestrian sport.
Skelton, 54, was part of a four-man team at the London Games that picked up Great Britain's first Olympic showjumping gold medal in 60 years.
Speaking after the investiture, he said he was hoping to repeat the feat at Rio in 2016.
"It was brilliant winning the gold, especially in this country. I couldn't think of a better place to do it and getting the OBE as well, it makes my year.
"I'm getting on a bit, but I want to go to Rio - the body's a bit of a problem, but we'll soldier on."
Skelton's career almost ended in 2000, when he broke his neck in a fall.
After spending months wearing a metal brace he returned to competition in 2002.
He said the accident had made him "even more determined".
Two postboxes were painted gold in honour of Skelton's achievement in the Olympics, in his hometown of Alcester and his birthplace of Bedworth.