Langley fire: The homes damaged by the blaze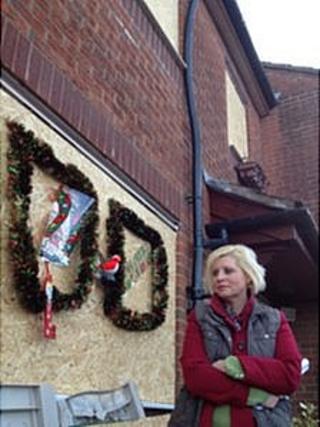 More than a week on from a huge fire at a chemicals plant in the Black Country, residents are still coming to terms with what happened right outside their homes.
"It was horrendous," said Langley resident Denise Annetts.
"I heard a bang and then a second bang shook the whole house.
"I grabbed the dog and opened the front door and just saw this fireball in front of me. I heard the men at the factory screaming and shouting, obviously trying to get someone out and get out themselves - I can't get that out of my mind."
Mrs Annetts, who lives in Hall Street opposite the factory, managed to escape to a house around the corner where she could ring her husband to pick her up. The couple have now been left "with not too much damage" - melted window frames and two freezers' worth of food which had to be thrown away.
The fire at the Alcohols Ltd factory on 26 November is thought to have been started as chemicals were being decanted in a corner of the building. An investigation is currently being carried out by the Health and Safety Executive.
At its height, more than 100 firefighters were tackling the blaze as residents escaped from their homes, in some cases through their back gardens and over fences.
One worker at the factory suffered burns but he has since been discharged from hospital.
The other part of the company - a gin distillery - was left unscathed.
'Cracks in walls'
The families might now all be back in their homes, but nervousness about the factory remains.
"I jump now every time I hear a loud noise," said Mrs Annetts.
"And it's not just me - when we parked at the end of the street the dog refused to walk back up and she's kept close to me ever since."
Walking along the streets that back on to the factory, some windows are boarded up, others have cracks in them, while the frames of other uPVC windows and doors have completely melted.
"We've got cracks in the walls in most of the rooms from the heat of the flames," said Harbhajan Kaur, who lives opposite Mrs Annetts.
"I'd left the bathroom window open, and when I got back in the house there was smoke damage and ash everywhere. It took me two, three days of cleaning."
She said the house's smoke alarm and several lights had also been damaged by the heat.
'Asbestos tiles'
Frina Begum lives in Crosswells Road, where three other homes are owned by her sister, brother and parents.
The last of them were only allowed to move back home on Monday.
"While we were put up in a hotel, we worried about what was happening to the houses," she said.
"For one of us to be homeless would have been awful - imagine if it had been the whole family.
"We've had asbestos from the tiles on the factory blown into our gardens, so they've had to be cleaned up, the windows are cracked and we've had to clear all the ash from our homes."
Among the worst affected residents was Sandwell borough councillor Jayne Wilkinson and her family, who live directly opposite the factory.
Her car was declared a write-off after the back of it melted in the heat of the fire.
At the family home, the guttering and drainpipes have melted and windows have been boarded up because of melted window frames.
"I've lived in Sandwell my whole life and I wasn't nervous about moving next to the factory," she said.
"The distillery's been there since 1805 and the new part has been here since the '70s, so I've grown up with it. Apart from a fire in 1955, there haven't been any incidents."
'Left with nothing'
In between putting in her own insurance claims, she has been acting as a source of information for other residents and pressing the factory, council and other authorities for answers.
"There was just no procedure in place - by anyone - about what to do in a situation like this.
"It meant lots of people were left with nothing than what they escaped from their homes with, and the information we needed just wasn't there."
The company is holding a public meeting on Wednesday evening.
Its managing director Adam Willis said he was "very sorry" to the local community for what had happened and said the clear-up outside of the factory had now finished.
"A lot of people around here - including me - don't want to see it rebuilt," said Ms Wilkinson.
"We're nervous enough that the scorched storage tanks will still need draining of their chemicals - none of us want to be around when that happens."