Guillotine lock in Kings Norton gets £200,000 revamp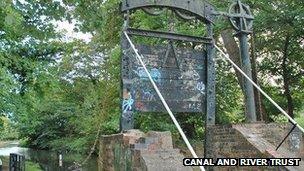 More than £200,000 is being spent to restore a grade II listed canal lock gate on the Stratford-upon-Avon canal.
The Canal and Rivers trust said the guillotine lock at Kings Norton, Birmingham, had not been operational since 1948 and had been vandalised.
Engineers have drained the canal so they can repair the steel lock gates and replace about 7,000 bricks.
"It's historic, being the only lock of its kind on our 2,000 miles of canals," said waterways manager Dean Davies.
"The work is very detailed that we have to do. For example all the bricks are individually hand made to match those already there so we don't compromise the structure," he added.
The money has come from People's Postcode Lottery and English Heritage, which placed the lock on its 'At Risk' register in 2011.
The trust said the scheme was one of 15 different maintenance projects on the 25-mile stretch of the Stratford-upon-Avon canal.
Mr Davies said: "Winter time is always the busiest for us with maintenance. We've drained locks in Warwick and Lapworth to put in new lock gates there too."
Related Internet Links
The BBC is not responsible for the content of external sites.