Tipton children beaten with metal bar in 'brutal' attack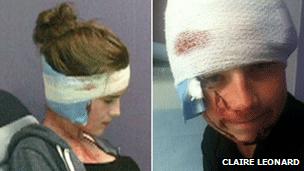 Two children were beaten by a man with a metal bar in a "random and brutal attack", police said.
Callum Leonard, 14, and Jessica Wilde, 13, were assaulted on a pathway close to Hobart Road and Wallbrook Primary School playing fields in Tipton, West Midlands.
Police said their attacker, described as white aged about 20, targeted them at about 17:40 GMT on 20 November.
The children suffered head injuries and required hospital treatment.
Callum's mother Claire, from Tipton, said the children managed to run away after they were attacked.
She said: "They had run for about 15 minutes before they stopped to ring anyone, they were that frightened.
"Callum's head was bleeding, and he'd got a 5cm cut on the front of his head, and a 4cm cut just above his ear, and the blow has actually left a dent in his head.
"The man who attacked them never said anything to them, and although they were on their phones, he didn't seem interested in going after what they were carrying.
"[Callum] says he's okay but he isn't, he won't go out at night, he gets very anxious, and he doesn't sleep properly at night."
Jessica's mother Claire, of Coseley, described Callum as her "little hero", after he had helped her daughter escape.
"She's got a scar on her head, doing her hair is really painful for her and she gets bad headaches," said Mrs Wilde.
"Before, she would go out with friends after school but now she's too scared, she doesn't want to go to the youth club or go to the park.
"I want her to stop in and not be unsafe, but obviously I want her to be normal again.
"They are both very lucky considering what could have happened. I cannot understand why anyone would do it."
The two friends were treated at Wolverhampton's New Cross Hospital in Wolverhampton and have since returned to school.
Det Con Gareth Homer, from West Midlands Police, said: "This was a completely random and brutal attack against two schoolchildren who were simply minding their own business.
"Both victims required hospital treatment for nasty injuries and, although they're recovering well, the psychological scars will take some time to heal.
Mr Homer appealed for witnesses saying he believed the attacker was a white man, aged around 20.
"I would also appeal directly to the attacker to do the right thing and come forward to speak to us," he added.
A police spokesman said the reason for the delay in making a public appeal was because officers investigating the attack were following up other lines of inquiry.
Related Internet Links
The BBC is not responsible for the content of external sites.