Wolverhampton toasts 'record' number of new businesses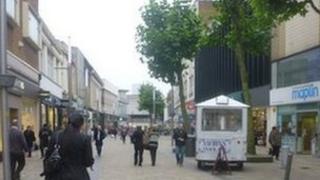 A record number of new businesses are starting in Wolverhampton, according to industry experts.
A total of 384 businesses were set up between July and September last year, figures from Companies House and the Office for National Statistics show.
While it is unclear how many jobs have been created Duport Associates, which compiled the figures, said it showed Wolverhampton was "on the up".
The city still has one of the highest rates of unemployment in the country.
Currently, almost 8% of working age people in the city are jobless.
Councillor Peter Bilson, responsible for economic regeneration at the city council, said the increase in new businesses was partly due to partnerships with local universities and training colleges.
'Encourage and nurture'
He said small businesses, including pop-up stalls, in the city centre had also benefited from a £100,000 investment as part of the Portas Pilot.
Mr Bilson said the council had worked hard to "encourage and nurture" entrepreneurship in the city.
While many new businesses fail within their first two years, the research by Duport Associates showed a net gain of 163 businesses in Wolverhampton between July and September.
The city council said the new start-ups were part of a £1bn investment in the Wolverhampton area from public and private sector organisations, including Jaguar Land Rover's £350m engine plant, which is currently being built near junction two of the M54.
Wolverhampton's success is at odds with figures released for many rural towns in the West Midlands, with Warwick seeing a record number of company closures (183) in the third quarter of 2012, a 91% increase in closures, compared with the same period in 2011.
Shrewsbury and Worcester have also seen drops in the number of new businesses being set up.