Woman meets man who burgled her Castle Bromwich home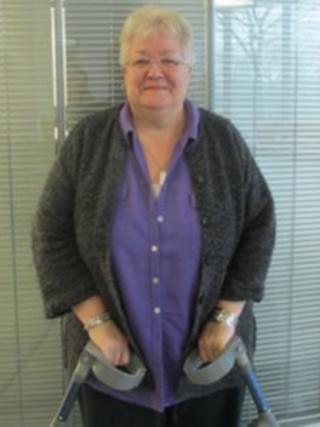 When Linda Womwell went to meet the man who had burgled her house and taken "every piece" of her jewellery - she imagined a young, unkempt person on drugs.
So she was "gobsmacked" to find a man in his 40s, who was well-spoken, smartly dressed and apologetic.
Mrs Womwell, 63, of Castle Bromwich, said anger and fear after the crime, as well as "curiosity", prompted her to take part in a "restorative justice" scheme where victims meet offenders.
West Midlands Police says an eight-month pilot scheme has been so successful it may now be extended to other parts of the force.
The main aims of the project are to give victims the chance to tell offenders the "true impact" of their crimes and encourage them to take responsibility for their actions.
'Real insight'
Mrs Womwell said: "I wanted to ask him what gave him the right to come into my home and take whatever he wanted?
"He'd taken every single piece of jewellery that I owned - even the rubbish," she said.
The pieces, which were taken while she was out shopping, included a locket containing a photo of daughters as babies and the first ring her husband had given her.
Mrs Womwell, who uses crutches, said the incident also left her feeling frightened and vulnerable in her home.
But after the recent two-hour meeting in the presence of a police officer she now feels safer and stronger.
"I imagined all burglars are armed with baseball bats or knives but this one told me that's only in perhaps 1% of cases.
"They normally break into the house and if they hear someone they run," she said.
She added that the meeting was a "real insight into people" and also into the criminal world.
The burglar told Mrs Womwell he carried out the raid because "it's my job" and that he had been in and out of prison since the age of 15.
Mrs Womwell said she laughed when the man told her he had been angry when a bike he had borrowed from a friend was stolen, which had led him to start considering the impact of his actions.
Neighbour disputes
The burglar claimed he was now trying to lead a different life, and even gave her tips on how to improve security at her home.
She met the criminal after he had been sentenced but, in many cases, restorative justice has also been used instead of the court process.
However, Sgt Allan Green, who is leading the project, stressed it was not a way out for offenders, as it was usually used "when an offender won't get charged", such as where there was a lack of evidence or the victim did not want to press charges.
He said it was also mainly focused on "low-level" crime and had been particularly effective in disputes.
In one case a row between neighbours which had involved more than 100 calls to police was resolved by a two-hour meeting.
The approach is being used by forces around the country but, under national guidelines, it cannot be used in cases involving domestic violence and sexual offences.
Police constables Harry Matharu and Sherrie Watkins decided to use the approach to deal with a drunken man who shouted a stream of "vile" racial abuse at a domestic incident.
'Light-bulb moment'
Sikh officer PC Matharu said the man's insults were personal and "just didn't stop". When he failed to get a reaction, the man began abusing PC Watkins.
PC Watkins, an officer for five years, claims to have grown "thick-skinned" in the face of such incidents as they happened so frequently.
But the officers were sceptical about being involved in the scheme initially, and did not believe the offender genuinely wanted to apologise.
However, they said when the offender's insults were repeated back to him he "flinched" at every word.
"It's quite good to actually look someone in the eye and see them squirm," PC Watkins said.
Sgt Green said a small number of offenders wanted to apologise to their victims, and when it worked restorative justice could be "incredibly powerful".
"The victims can get peace of mind and satisfaction and they can stop living in fear," he said.
Meanwhile, he said some meetings can be a "light-bulb moment" when offenders realise the impact of their crime and stop re-offending for good.