Planned flight paths at Birmingham Airport revealed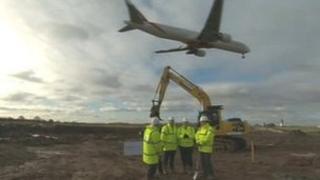 Aircraft would fly closer to some villages under plans to change Birmingham Airport's flight paths.
A three-month consultation has started over new departure routes which would need Civil Aviation Authority approval.
Aircraft would go further away from Catherine-de-Barnes, Eastcote, Knowle and Meriden, but closer to some parts of Hampton-in-Arden, Barston and Balsall Common, the airport said.
Hampton-in-Arden Society member Graham Juniper called the plan "disgraceful".
He said: "The planes will have an impact on everybody and on the church which is at that end of the village and the school which is at that end.
"We're very annoyed about this proposal and they will be in lots of parts of Balsall Common.
"The planes may be quieter than 30 years ago and they get up higher quicker. But on the other hand you get the big planes taking off and landing."
Airport public affairs director John Morris said: "As a result of our flight paths being redesigned using the latest criteria, aircraft will be able to fly more precisely on the centre line of a flight path.
"By narrowing the corridor in which aircraft fly, and as more airlines introduce newer aircraft installed with the latest navigational aids, even fewer communities could be over-flown in the future."
The airport is to hold events for residents to find out more details, in Catherine-de-Barnes, Barston, Eastcote, Meriden, Berkswell, Hampton-in-Arden, Marston Green, Bickenhill, Balsall Common, Knowle and Sheldon.