Birmingham City Council social worker off sick since 2003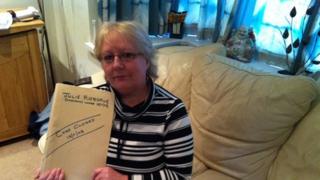 A social worker who has been off sick since 2003 says she has spent £15,000 on legal battles over the issue with Birmingham City Council.
Julie Risdale, from Bromsgrove, said she was diagnosed with depression after a disagreement with her boss over collecting her son from school.
She said she still feels unwell and unable to go back to work.
The council said it had been in regular touch with her to try to resolve the "ongoing dispute".
Ms Risdale, 54, said she submitted a grievance to the council after she felt accused of abandoning a case in 2003 by going to pick up her son, an arrangement she claims the management knew about.
She was signed off with depression in December 2003 and remained off work until January 2005 when she was dismissed due to sustained ill health.
Ms Risdale then won her job back following an appeal over wrongful dismissal in September 2005.
'Emotional cost'
She said she had been off sick on full pay for the first six months of her illness, and it was then cut to half-pay for a further three months. She said she had not been on the council's pay roll since.
"It's cost me about £15,000 but it's the emotional cost really, that's what I'm stuck with and I'm in crisis about what to do now," she added.
"I don't know where to go. I remain feeling ill and I'm literally holding myself together hour by hour.
"The council have been putting soil on my coffin, I think they thought I needed to be put out of the way."
Ms Risdale has since lost a compensation claim for disability discrimination.
A spokesperson from the council said: "Ms Risdale took the city council to employment tribunal and the civil courts and both hearings found in the council's favour, with the tribunal finding that we had acted in good faith in seeking to resolve matters with her internally.
"Now legal proceedings have concluded we will seek to work with her to progress matters.
"We have maintained regular contact with Ms Risdale with the ultimate aim of trying to resolve her ongoing employment dispute."