'Fire-free' rooms at Birmingham library protect archive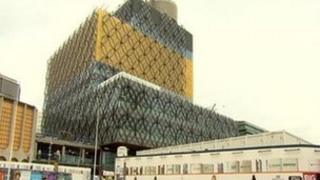 The new £188m Library of Birmingham is to install five "fire-free" store rooms to protect its books and archives.
Managers said the special rooms will have small amounts of nitrogen piped into them to reduce the oxygen content in the air, so fires cannot start.
Development manager David Bishop said: "The fire-free system allows staff access to those storage areas, while protecting our unique collection."
The library in Centenary Square is due to open in September.
The 10-storey building will boast an outdoor amphitheatre, a theatre, recording studio and free access to the National Film Archive.
The reduced oxygen system will cover the archive storage areas on levels five and six, where rare items, such as Audubon's Birds of America and a Shakespeare First Folio, will be kept.
Mr Bishop said the reduction in the oxygen levels would be relatively small and staff would be allowed to work in the rooms for up to four hours before having to take a 30-minute break.
Birmingham City Council said more than 500 organisations in Europe had installed "fire-free" rooms in their premises including the British Library in London.