Marie Curie Cancer Care £20m hospice opens in Solihull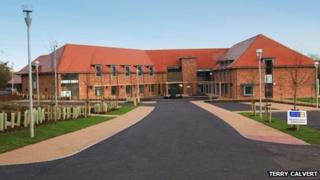 A new £20m hospice has opened in Solihull, in the West Midlands after 20 years of planning.
Patients have been moved from the old building run by Marie Curie Cancer Care on Warwick Road to the new, larger centre on Marsh Lane.
About 20 jobs have been created at the new site where there are now about 100 full and part time staff.
Manager Liz Cottier said it had taken "years" to find an appropriate site and secure the money.
'Last mile'
She said the new site is about four times larger and has 24 en-suite rooms compared to 17 at the old one.
Ms Cottier said: "We've had this in the planning for at least 20 years, it's generally been about finding the correct site.
"A budget of £20m is a big one so finding that has taken time too."
She said most of the money has come from the NHS, with £7m being raised locally by the charity within 18 months.
Another £1m is needed to finish the project.
Director of the funding appeal, Noel Cramer, said: "The final £1m is going to be the toughest to raise, a bit like the last mile of a marathon to run."