Police car rammed in Audi chase in West Midlands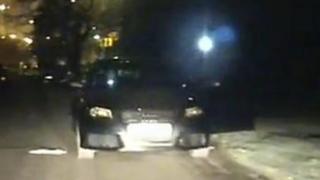 A police car was rammed during a pursuit of a vehicle that had been carjacked in the West Midlands.
The owner of a black Audi RS3 was threatened with a knife by two masked men outside the Hilton Metropole Hotel near the NEC, Birmingham, police said.
The thieves drove to Clock Lane where they were found because the vehicle was fitted with a tracker.
As officers approached, their car was rammed, and they were unable to carry on the pursuit.
The Audi was later found in Meriden.
Det Con Dave Bailey, from West Midlands Police, said: "The offenders did their best to remove the tracker from the car, causing considerable damage to the interior.
"But we managed to track it with the help of Warwickshire Police to the car park of the Heart of England Social Club in Berkswell Road, Meriden, where it had been abandoned.
"We believe that the men were picked up by another car in the car park of the social club, where the Audi was abandoned. We are appealing for witnesses to come forward."
Police said the owner of the vehicle was unhurt but badly shaken by the ordeal.