Sutton Park pool rescue after boy falls through ice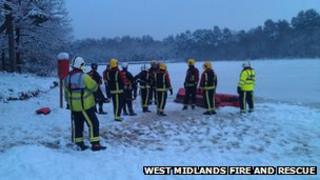 A boy has been rescued by the fire service after falling through ice on a pool in a Birmingham park.
West Midlands Fire Service said they were called to the Bracebridge Pool in Sutton Park at 14:30 GMT.
A spokesman said the boy, believed to be 15, had managed to get to an island 30m (96ft) from the shore.
A water support team rescued the boy using an inflatable raft. He was taken to hospital "suffering from cold", the fire service said.
A spokesman for West Midlands Fire Service said: "People who put themselves at risk by venturing on to ice also endanger the lives of anyone who might have to rescue them."
Grit stolen
About 90 schools in the West Midlands were shut or partially closed, including 53 in Birmingham, 14 in Dudley and 18 in Walsall.
Salt from grit bins has been stolen and offered to people to clear their driveways, Walsall Council said.
It said residents in Bloxwich North had reported seeing people stealing grit and offering to clear driveways for a fee, with several homes approached in the Stoney Lane and Ambergate Close areas on Monday.
A Met Office yellow warning is still in place with temperatures not expected to get above freezing.