Birmingham faces Olympic catering shortfall of £7.7m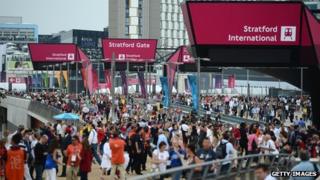 Lack of earnings from an Olympic Games catering contract could leave Birmingham City Council having to cover an almost £8m shortfall.
Amadeus, part of the NEC group which is primarily owned by the council, ran food stalls at London's Olympic park.
During the games it had problems after running out of key ingredients.
The firm reported an earnings shortfall of £7.7m from the event, money which formed part of Birmingham's expected revenue in the 2012/13 budget.
The council admits it will have to accommodate this in a "reserve strategy".
'No burgers'
Amadeus is the catering arm of the NEC Group, and supplies major venues including the ICC and LG Arena.
The company won a contract from the 2012 Games organisers LOCOG in January 2011 to provide food to the Olympic Park North, home to the velodrome and basketball arena.
But during the Olympics there were long queues and shortages of food and water on some days.
Other food suppliers have said it was difficult to get ingredients to the Olympic Park as deliveries could only be made at night.
Stephen Minall, director of Wrapid Ltd, said night time delivery was "not realistic" for the size of the venues and the amount of people they were feeding.
"People ran out of milk or burgers or chips because we couldn't get the products because of the night time delivery problems," he said.
A spokesman for Amadeus said the problems described by other suppliers "is something that the NEC Group can certainly sympathise with".
The lower than expected earning figures were revealed in a Corporate Revenue Monitoring report for 2012-2013 as part of the NEC's "constant communication with the council on all aspects of the business".
An NEC Group statement added: "As Birmingham City Council is the majority shareholder in the NEC Group, we have an obligation to report on all aspects of the business throughout the year to the city council.
"Although we are under no requirement to report publicly on our financial performance, we choose to do so... This gives us an opportunity to discuss the different elements of our business as a whole."
Birmingham City Council declined to add to the NEC Group statement.