'Elephant Man' robs betting shop in Birmingham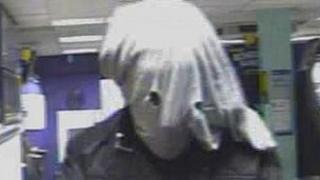 An armed robber described as "looking like the Elephant Man" raided a betting shop in Birmingham.
The man used a T-shirt with tiny cut-out eye holes and threatened staff with a knife at Corals Racing in Chester Road, Streetly.
Staff locked themselves in a back office during the raid which saw the man make off with about £350.
Officers appealed for information about the robbery which happened at about 16:45 GMT on 26 January.
The man is described as wearing mustard coloured trousers, a black quilted style jacket and had a grey T-shirt covering his face.
Det Con Martin Beebee said: "This is one of the most unusual masked robbers we have encountered and he can only be described as looking like the Elephant Man.
"It's surprising he was able to see anything at all through this make-shift mask.
"However this was a disturbing incident for the members of staff who did the right thing by securing their safety and contacting police."