Halesowen College strike over the sacking of four lecturers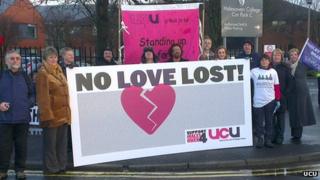 Staff at a West Midlands college are taking part in a one-day strike over the sacking of four lecturers.
Halesowen College sacked the four in January for on grounds of "consistent failure to ensure that students fulfil their potential".
The University and College Union (UCU) claimed the problem lay with students' achievements not lecturers' competency.
The college said all processes had been "exhausted" and the matter "was now closed".
Halesowen College said it would "not condone consistent failure to deliver expected standards of performance".
As part of the protest, the union had planned to deliver a giant Valentine's Day card with more than 12,000 signatures calling for the lecturers, who were all sacked in January, to be reinstated.
However, security guards prevented them from delivering the card.
UCU regional officer Nick Varney said the college had brought in extra security for the strike and questioned how much this had cost.
Earlier he had said the card was ironic "as relations between staff and college management are anything but affectionate".
Principal Keith Bate said the decision over the lecturers' posts was "final" and that planned events had gone ahead with 13 staff members taking part in the industrial action.