Sabbath star Tony Iommi pens Armenian Eurovision entry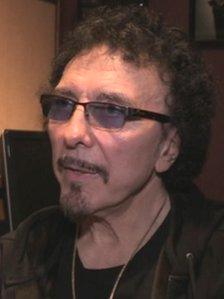 Black Sabbath guitarist Tony Iommi has written the song which will represent Armenia in the Eurovision Song Contest.
His "rock ballad" Lonely Planet will be performed at this year's contest in Sweden by Armenian act Dorians.
Iommi became well known in the Eastern European country after helping produce an album to raise money after a huge earthquake in 1988.
The founder member of the Birmingham heavy metal band said it had been a "new experience" for him.
"I've done a lot of things, but never that," he said.
"The thing is, I've always thought, 'oh no, not the Eurovision', and here I am in it now."
Iommi was one of several rock stars who helped fund raise after the 1988 earthquake in Spitak, which killed up to 45,000 people and left a further 500,000 homeless.
He said he had gone back to the country a couple of years ago with Queen guitarist Brian May to see what had been done since, and the stars then got involved in another campaign to raise money to rebuild a music school there.
Through those connections, representatives from the Armenian Eurovision entry got in touch with Iommi to ask if he could write a song.
"I first said, 'oh God, I don't know' - it seemed really strange, me doing a Eurovision song, I don't usually do that," he said.
"But I said, 'I've got a rock ballad, I'll send it over."
Iommi, who has sold more than 80 million records worldwide during his career, added he "really" hoped Lonely Planet did well in the contest, but said he expected it to be "slagged [off] like everything else does".
The musician announced in January last year he was undergoing treatment for cancer after being diagnosed with lymphoma.
He said he was still facing years of treatment but was working on a new album with Black Sabbath.
Related Internet Links
The BBC is not responsible for the content of external sites.