Crufts: Police dog picks up award for ravine rescue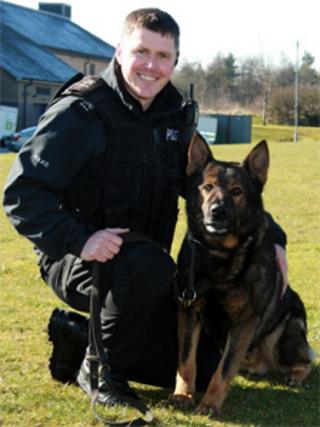 A police dog has won an award at Crufts for locating a walker who had fallen down a 60ft (18m) ravine.
Axel, a German shepherd, trained by West Midlands Police, led handlers in a four-hour search for a 58-year-old woman.
Officers said the walker may not have survived had Axel not tracked her down, using scent found on an umbrella.
The dog, now working with police in Fife, was given the 2012 Police Dog Humanitarian Action Award at Crufts.
West Midlands Police has one of the biggest dog training units in the country, with many of them being bought by other forces.
Axel is one of more than 100 brothers and sisters bred from the force's main stud dog Tag, chosen for his temperament.
Trainer Dave Raymond said West Midlands Police had been keen to keep hold of Axel but all handlers had been partnered with dogs when he was ready for operational duty.
Mr Raymond described Axel's performance as "an incredible track over many hours and a considerable distance".