Keanu Williams case: Mother 'trusted' partner with toddler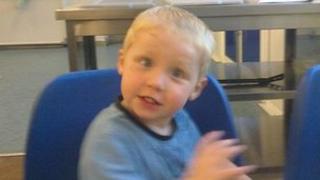 A mother accused of murdering her two-year-old son said she had "no reason" not to trust her partner with the boy, a court has heard.
Keanu Williams died in January 2011 after being found with head and chest injuries in Ward End, Birmingham.
Rebecca Shuttleworth, of Manchester, and her partner Luke Southerton, of Hagley Road, Birmingham, deny murder.
Ms Shuttleworth, 24, told Birmingham Crown Court she thought Mr Southerton, 32, was a "better parent than me".
The pair also deny causing or allowing the death of a child and a charge of cruelty to a child aged under 16.
Ms Shuttleworth, of Cottingham Road, told the court how she had left Keanu at Mr Southerton's flat on Sunday, 9 January while she went to her father's home to replace clothing which the toddler had vomited on.
'Started crying'
She said that Keanu had fallen asleep five minutes before she left and when she returned he was "still facing back on the sofa" and noticed how one ear was white.
Paul Lewis QC defending, asked her what she did.
Ms Shuttleworth replied: "I don't know why, something told me to look at his chest... he was just still."
A 999 call was made at about 19:40 GMT and Keanu, who had also been known as Kiwi, was confirmed dead later that day.
She said that before leaving the toddler, she knew he had injuries on his stomach but was not aware of any other injuries.
Mr Lewis asked her if she had trusted Mr Southerton.
She replied: "I had no reason not to. I did see him as a better parent than me."
Ms Shuttleworth told the court that two days earlier, when she took the toddler to Mr Southerton's flat, once they were in sight of the front door Keanu started screaming.
She said: "It started off as a crying and wouldn't stop."
She said she had thought at the time he was "just tired" and he continued crying for about 10 minutes after arriving, but fell asleep.
Ms Shuttleworth said the following day Keanu was "just really quiet" which was unusual.
She said he did not seem to be in any pain but at breakfast ate less than he normally would.
The court heard that on the Sunday, after being alerted by Mr Southerton, she found Keanu was not in a camp bed as she expected, but face down to the right of the TV.
Ms Shuttleworth added Keanu was "freezing", he seemed quiet and "clingy" and she thought maybe he was "coming down with something".
She said: "I thought I'd keep an eye on him. Luke said it could be this 24 [hour] bug thing."
Asked if she had deliberately caused Keanu any injury, Ms Shuttleworth said: "Never."
The trial continues.