Walsall Manor Hospital improves poor death rates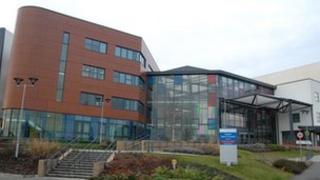 Death rates at a Walsall hospital are improving, according to a report for the local authority.
It was commissioned by the council's health scrutiny committee after long-term, high mortality figures at Walsall Manor Hospital.
Last year the hospital was highlighted in a report for the Dr Foster research group after the number of deaths in 2011-12 were 17% higher than expected.
The hospital trust said the latest data showed consistent improvement.
Richard Kirby, chief executive at Walsall Healthcare NHS Trust, said the hospital had introduced several changes since death rates started to rise in early 2011.
He said staffing levels had been increased, while senior clinical cover had been improved over weekends.
Mr Kirby said the trust had also invested in end-of-life care and targeted common problems in the area, such as respiratory diseases.
Areas for concern
The 2011-12 data was not the first time the hospital had faced criticism over its death rates.
When one measure, the Hospital Standardised Mortality Rate, was introduced in 2001, Walsall Manor hospital was found to have the worst rate in England, compared with expected levels.
In 2009 its mortality rates once again began to rise and, according to the report, were again "significantly above expected" levels by 2011-2012.
Over the last year, death rates have dropped and Mr Kirby said they had now been below expected levels for 10 months in a row.
Dr Amrik Gill, from Walsall Clinical Commissioning Group (CCG) said: "We welcome the independent report for care at Walsall Healthcare NHS Trust and are reassured that good progress has been made at the hospital."
Carried out by Mott Macdonald from January to April, the independent report did however identify several areas of concern, including "significant and increasing" pressures on Accident and Emergency.
Poor life expectancy
It also said there were problems discharging patients to other hospitals, the community or nursing homes and said palliative care services were still limited, despite the opening of St Giles Hospice in 2011.
The report also considered the health of the borough as a whole and found Walsall had several factors influencing high death rates, including poor life expectancy, high levels of deprivation, sexually transmitted infections and smoking, and historically low education levels.
It said life expectancies were more than 10 years below the England average for men and almost seven years lower for women.
Diabetes levels in the borough are also among the worst in England.
Councillor Marco Longhi, chair of Walsall Council's health scrutiny committee, said the report had been prompted after committee members had "repeatedly sought assurances from health colleagues" because of historic high death rates.
He said the committee would be considering its findings at a meeting on 23 April.