One in five Birmingham and Black Country primary schools 'full'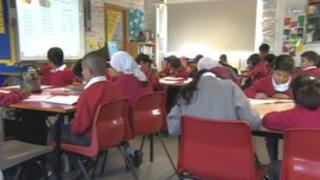 Nearly one in five primary schools in Birmingham and the Black Country is full or over capacity, according to council figures.
The increase in demand is the result of a population boom between 2001 and 2011, the city council said.
The council said the situation could affect parents' choice of schools, but it was working hard to provide extra classes in the worst-hit areas.
Places for almost 2,000 extra children are due to be created by September.
That is on top of millions of pounds already spent to create classrooms for an additional 8,000 children in Birmingham over the last three years, the Labour-run council said.
In Sandwell a £7m school-building programme at three schools is expected to create 680 new places.
Birmingham, however, has seen the biggest rise in demand in the West Midlands, with a 21% increase in the birth rate over the last decade.
Anita Ward, chair of the education committee, said the problem was not only about numbers, but "making sure we meet demand in the right areas".
Temporary classrooms
The local authority said additional capacity was particularly needed in the Erdington, Kingstanding, Shard End, Ladywood, Kings Norton, Northfield, Oscott, Bournville, Brandwood and Sheldon areas.
Parents across the city will find out next week if their children have been offered places at the school of their choice.
Government guidelines mean classes should not exceed 30 children and in Birmingham, much of the investment has been in building extra classrooms at existing schools.
Starbank Primary in Small Heath has increased numbers from 630 pupils in 2009 to more than a 1,000 this year.
Head teacher Gerry Hudson said that while the school had grown, class sizes had been maintained at about 30.
He said despite having to stagger meal and playtimes, the school had also benefited from new facilities.
Many of the extra places at Starbank have been provided through temporary classrooms and Mr Hudson said they were not a permanent solution.
The ATL teaching union has previously criticised the use of "supersize" primary schools, which it said struggled to provide nurturing environments for young children.