Smurfit Kappa fire: Crews remain at paper mill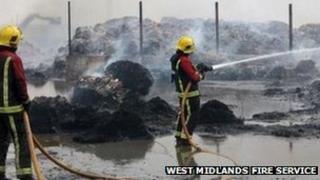 More than 40 firefighters remain at the scene of a blaze at a Birmingham paper mill two days after it broke out.
Tens of thousands of tonnes of cardboard caught fire at the Smurfit Kappa plant on Mount Street, Nechells, on Wednesday night.
A West Midlands Fire Service spokesman said they were still dealing with small pockets of fire and expect to be on site for a further 48 hours.
Some surrounding roads remain closed to traffic, but access on foot is allowed.
Hose obstacle
Incident commander Nigel Sowden said the A47 Heartlands Parkway was still shut in both directions between the B4114 Saltley Viaduct/Mainstream Way and B4137 Cuckoo Road because of smoke blowing across the road.
West Midlands Fire Service said conditions at the site "continue to improve".
Mr Sowden said: "Vehicle access is difficult at the moment because of our hoses lying across the road.
"We're working closely with the company to move the bales of cardboard and expect to be on site throughout the day, maybe for another 48 hours, but we'll continue to assess the situation regularly.
"The cause is still being looked at by our fire investigation team.
"We still don't think it is a suspicious fire at this stage, although we're not ruling anything out."
At its height, more than 100 firefighters tackled the blaze which was confined to a seven-acre area at the site.
Carl McGuire, manager of M&M Steel Stock on nearby Trevor Street, said staff were able to access the company's premises but business was still affected.
Mr McGuire said: "It's been a nightmare.
"The roads are still blocked off. I've got a lorry waiting to deliver stuff to us and our own lorries loaded up but unable to get out.
"The fire service are trying their best to help."
He added the firm's clients and customers had been "as understanding as they can be" about the situation.